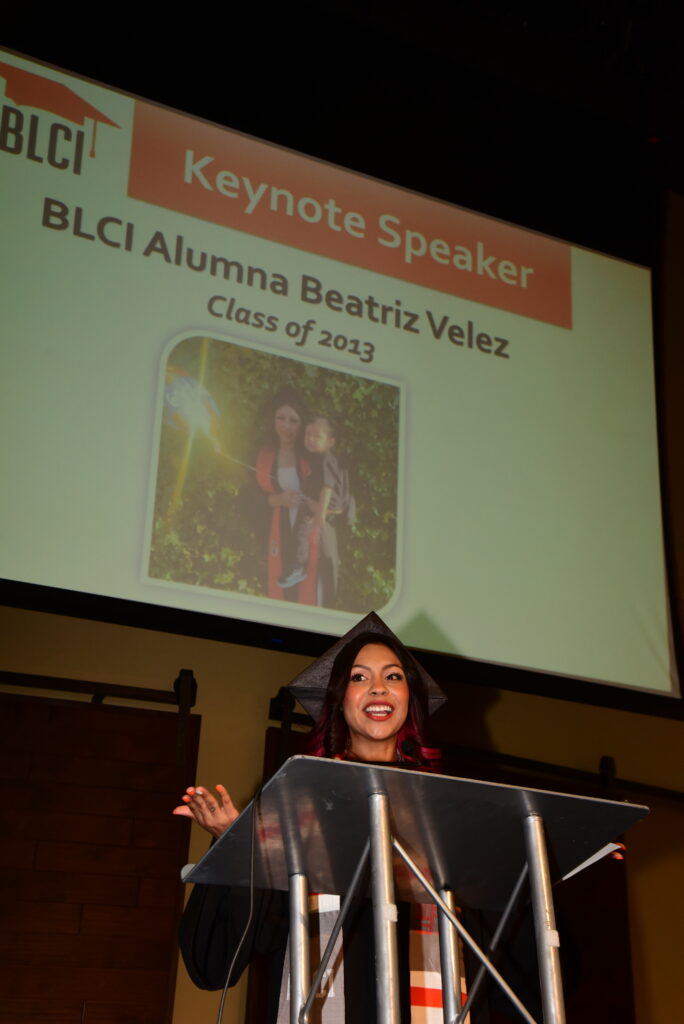 Meet Beatriz Velez, BLCI Class of 2013 Alumna and current El Cajon Site Manager. Beatriz was this year's keynote speaker at BLCI's Graduation Celebration on June 24th. As a prior program participant and key member of the BLCI program team, Beatriz is an inspiration. She shared how her time at BLCI helped prepare her for a future of helping others and impacting the next generation of first-gen college graduates.
"Welcome Class of 2023! My name is Beatriz Velez and I'm part of BLCI's Class of 2013. Tonight, is a very special occasion where we get to celebrate the next generation of leaders. We are celebrating two and a half decades of success, struggle, but most importantly, a step in the right direction. I have been fortunate enough to congratulate you on this new step in your life. I want to thank BLCI staff members, families, board members, and class of 2023 who made this day possible.
BLCI has been part of my life ever since I joined the program in 5th grade. BLCI was a unique guide when I was too young to know what I wanted to do with my future. Ever since I was young, I imagined myself helping people but didn't know that it would one day become a reality. Growing up with undocumented parents was hard, especially because they had no single clue what getting an education could offer me in this unknown country. Both of my parents arrived from Mexico City in 1994 to pursue a better life. A better life for them consisted of being financially stable and freedom. Little did they know, that pursuing the American dream would come with many challenges.
I attended Point Loma High School in 2009 and after high school I enrolled in community college. At City College, I remember taking a communication class where I learned the ripple effect that college can do for undocumented families. I learned about the importance of pursuing higher education, but I never valued the impact that higher education would have on my future. In community college, I got involved with my campus and began to envision myself becoming a teacher. Meanwhile, I was working with BLCI because I too wanted to change the next generation. It was a long time coming when I finally achieved my associate degree in business administration. At this moment I knew the educational path was the right fit for me.
As a student, I recall being insecure about my life. As a Hispanic student, I have always felt the pressure of having no other option but to succeed for myself and my two hard working parents who gave up their home country to offer me a better future. English was not my first language. I struggled with education because I didn't know what kind of support I needed from my parents, mentors, and peers around me. Around this time, my mom found a program offered at Perkins Elementary School called BLCI.
BLCI taught her how to advocate for our learning and the importance of not giving up. While I faced my struggles in education, it also taught me who I could fall back on for support, and that included BLCI, my parents, and my positive role models in school.
In 2019, a BLCI staff member, Yanet Cardenas, influenced the next decision I was about to make. I was considering choosing between getting my associate degree and finishing my education or transferring to CSU. She mentored me and encouraged me to apply to SDSU for the Fall 2020. I was 24 years old when I felt confident enough to pursue what I knew was right for me. During this time, I found out I was pregnant. I knew that being pregnant was going to be another challenge in my life that I knew I would have to overcome. Thankfully, the students I worked with at BLCI were another great motivation to push even harder and fight for a better future.
A few weeks later, I found out I got accepted to SDSU with all my tuition paid for the next two years of university. I was excited but doubtful at the same time. I accepted admission for SDSU for Fall 2020. Since then, I've managed to obtain my bachelor's degree in liberal arts with an emphasis in Chicano Studies and a certificate in Ethnic Studies. I stand here today being grateful for the decision I made to continue my education and apply to a CSU School.
Today, I continue to work with BLCI as the El Cajon Manager. Being a manager has really helped me appreciate more the impact that I'm making with the students, parents, and the community. My plan is to continue to work hard and one day pursue my master's degree in education. I share my story not to bring doubt but to explain that in life there will always be challenges and it will never be an easy decision. Before you leave this ceremony, I want you to leave with this message: In order to fail at something, you must take the initiative to put yourself out there. Someone who isn't afraid to lose something will never gain anything in return.
Once again congratulations to the class of 2023."
If you'd like to see the impact Beatriz is making with BLCI, contact the Development team to arrange a personal tour of our El Cajon program location or DONATE today.