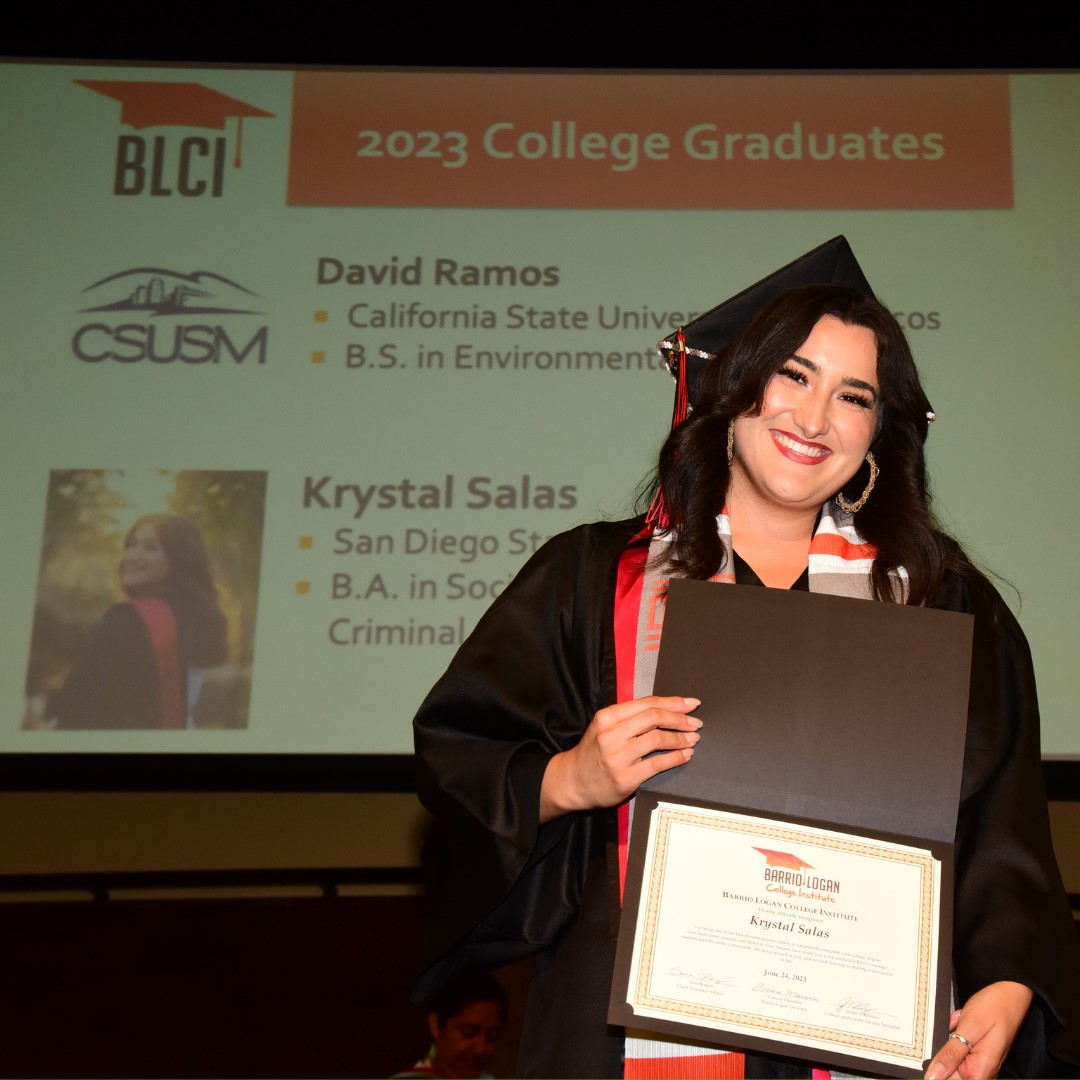 Krystal's Path
"I would not be where I am today if I had not had BLCI in my life for the past 10+ years. It has shaped me as an individual, as a professional, and taught me to continue to stay hungry for anything that comes my way."
Krystal Salas, BLCI Class of 2018
Krystal Salas, a graduate of Barrio Logan College Institute, exemplifies the transformative power of education and what it means to be a first-generation college graduate. Krystal joined BLCI in the 3rd grade and has grown from an introverted student to a confident and ambitious young woman making an impact on her community.
Krystal recently earned both a Bachelor of Arts degree in Social Work and a Bachelor of Science degree in Criminal Justice from San Diego State University. Krystal is also the College and Career Success Program Assistant at the Barrio Logan site of BLCI, directly assisting students with choosing which colleges they want to apply to and under what major. As a BLCI alumna and college graduate, Krystal is a role model of success. Her personal experience helps motivate her students and shows them that with hard work, education is possible.
Krystal's own educational journey was not a direct path, and she credits BLCI with helping her get to college and identifying the career path that was right for her. While a student at BLCI, Krystal had the opportunity to participate in an internship through BLCI's community partnership program. The program pairs students with local companies and provides opportunities to gain hands on experience and a chance to explore various career paths.
Krystal found this experience invaluable, "At the time, I was looking into a career in a STEM related field, and I knew an internship would give me hands on experience and an opportunity to reflect on my educational and career goals once complete. I realized I was better suited from a role that would provide more interpersonal communications and as a result, I changed my major saving me time and money that would have been spent on classes that ultimately would not align with my long-term career plans."
The summer internship proved valuable in exposing Krystal to a potential career and helping her to truly understand the field and come to the conclusion that a career in engineering was not for her. This realization was crucial in Krystal's pathway to success and exemplifies one of the values of BLCI: students gaining exposure to as many majors and career choices as possible to show them that as a first-generation student, their potential is limitless.
Throughout her time at BLCI, Krystal counts the workshops on how to apply to college and how to complete the Free Application for Federal Student Aid (FAFSA) as the most valuable. "Being a first-generation student, my parents did not know what the application was called, let alone how to navigate it. Knowing that I could go to someone to ask questions at any time was a relief because I had someone to turn to for help and support." With the assistance BLCI students receive in the College and Career Readiness program, families like Krystal's gain invaluable information that directly correlates with our students' success at becoming a first-generation college student.
"Reality hit me as a first-generation college student trying to navigate the process of being admitted into larger universities," says Krystal. Throughout her schooling, Krystal struggled with taking exams and her grades did not reflect the amount of time spent studying. Krystal had a mentor throughout her senior year of high school, Barrio Logan College Institute CEO, Sara Boquin. Sara recommended seeing a psychologist to explore options that could help her adapt to new ways of learning and reach her full potential. Through this process, Krystal was diagnosed with a learning disability and realized she was suffering from test anxiety. The recommendation to look into testing services and mental health support was life-changing and a critical point in her college journey.
Krystal went on to successfully earn two degrees a Bachelor of Arts in Social Work and Bachelor of Science in Criminal Justice from San Diego State University. She is currently enrolled in a graduate program where she will earn a certificate on Restorative Justice and Trauma Informed Care to help her achieve her goal of becoming a change agent in underserved communities
For Krystal and so many students like her, BLCI support does not end when they graduate college. BLCI provides support every step along the way and like Krystal, our students give back and make our community stronger every step along the way.
#BeThePath to College and Career Success and Donate Today